About us
CIDT Group was established since 2001, it is mainly to focus on property developments in the Mainland China and Hong Kong, also with financial investments & trading business.In 2009, CIDT Group constituted a new company in order to aggrandize the precious metals trading.
Based on our good experience in solid investments with well-qualifies team staff, we have tremendous confidence in providing high-quality services to the current and potential customers of the Mainland China and Hong Kong inclusive.
CIDT International Bullion Limited (the Company),which is a subsidiary of CIDT Group. It mainly concentrates on the precious metals trading. The principle of the Company is to provide high-quality services to all customers worldwide based on the factors as follows:
24 hours customer services;
2.Advanced hardware support provided;
3.Continual daily deposits & withdrawals without delay;
Well connection with various international banks for instantaneous price quote;
5.Sophisticated intellectual Management System furnished for providing effective supports to our marketing executives in order to satisfy customers' financial needs.
expansion of business
In order to expand business, CIDT Group have registered as the Financial Services Providers in NewZealand.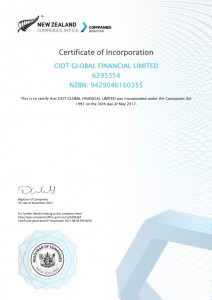 Copyright 2021
CIDT International Bullion Limited. All Right Reserved.